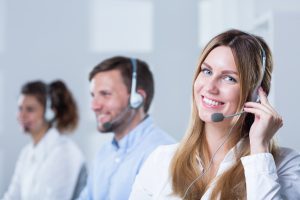 Effective communication with customers is arguably the most important aspect of running a business. Communicating with customers is important since it can give you insight into what may be working for your business, and find out about things you may want to change. Customer feedback is invaluable business advice since your main goal is to make them happy—after all, without customers, you wouldn't have a business at all. We've established that communication in business is important, but how can you go about soliciting customer feedback? Here are three ways you can improve customer communication channels.
Top 3 Ways to Improve Customer Communication Channels
Online Forum
Creating an online forum where consumers can communicate with your customer service representative as well as with each other is another way to improve your customer communication strategy. By allowing customers to converse with each other on a public forum, you'll get a unique insight into things they may enjoy about your services and things they may not. Speaking with other customers also holds the possibility of helping them resolve an issue without having to contact your help desk; customers who have dealt with the same issue can give their advice to others. Online forums can be helpful in more ways than one—they can allow you to observe the likes and dislikes through conversations between current customers, and they can also act as a customer-run help desk.
Leverage Technology
More and more businesses are taking advantage of the technology to facilitate communication with their customers. The creation of mobile apps makes direct contact with customers extremely easy. Since almost everyone has a smartphone, this is a convenient way to solicit feedback as well as increase the flow of customers to your business. For example, you may offer coupons and exclusive offers to those that download your app—the more people that initially download it, the more people they'll influence to download it, too. In addition to phone and e-mail, customers can be encouraged to connect with support through a customer portal on your app.
Inbound Call Centers
Inbound call centers are one of the most effective customer communication channels. While mobile apps appeal to the younger generation who are tech savvy, the inbound call centers are accessible to everyone. Having customer service representative to provide customer support and technical help 24/7 can greatly help your business—being able to reach you company at any time will make customers feel important and cared for. Call center agents who are trained to tend to your customers' needs can help grow your business, increase customer satisfaction, and improve your company's professional reputation. In addition to using technology and online forums, inbound call centers can take your customer service to the next level.
3C Contact Services Inbound Call Center Service in Toronto
Looking for an inbound call center in Toronto? 3C Contact Services offers premier inbound call center solutions that can improve your customer service relations and grow your business. With multi-language support, we're able to serve countries all over the world including Italy, Korea, Russia, India, and more. Whether you're in need of live customer service, customer retention, or direct response marketing, we've got the solution for you. Contact us today for more information.