Virtual Receptionist Services in Canada
Growing your business means expanding your operations to accommodate your evolving professional requirements. You may have started as a small operation with a limited number of employees, but eventually you're going to need a little extra help if you want to keep up with the increasing and changing demands of your customers. Expanding your operations may sound expensive, but there's that old adage, "nothing ventured, nothing gained". If you want your business to reach new heights of success, you have to work on climbing that ladder.
As your customer base increases, you're going to need additional support to provide inbound and outbound communications. Outsourcing professional virtual receptionist services in Canada from 3C Contact Services may be the right solution for your organization.
What Is a Virtual Receptionist Service?
Virtual receptionist services in Canada can help you manage high incoming call, email, and live chat volumes, so that you'll never miss an interaction again. With additional support from our Intelligent Assistants, you can spend less time scrambling to answer the phones and more time taking care of your business. We're here to take care of your customers the same way that you would.
Never miss another call again. Let 3C Contact Services answer all inbound calls for your small business today.
Need extra support with your appointment scheduling applications and practices? We can help with that, too. At 3C Contact Services, all of our agents are specially trained to manage virtual and over-the-phone appointment requests, so that you can stay organized, up to date, and set up your day the right way.
Need 24/7 Virtual Answering Service & Support
Why Do You Need Virtual Receptionist Services?
Virtual receptionist services handle a wide range of tasks for your small business including appointment scheduling and phone answering services. As your business continues to gain more traction, keeping up with the queries and communication demands can be challenging and overwhelming. We're here to ease some of the burden for you so that you can focus on managing and growing your small business.
Here are a few reasons why you should consider using our answering services for small businesses: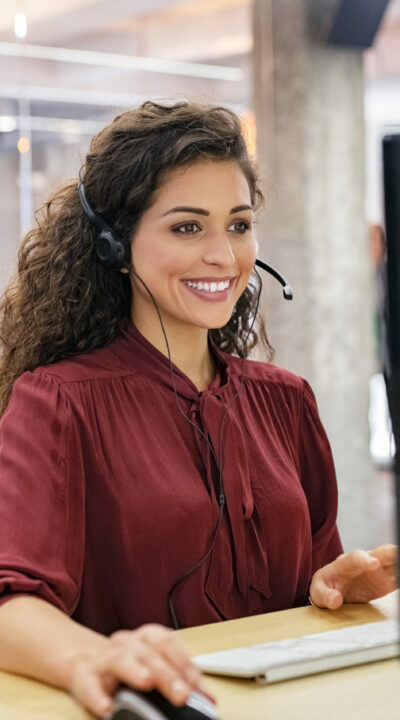 Virtual Receptionist: The Customized Solution That Works for You
At 3C Contact Services, we work for you. Our agents represent your business, which means we're able to offer customized customer service, appointment setting, and answering services that suit your specific needs and budget. Here's how it works.
We offer a four-pronged call answering service that includes:
We use pre-approved custom phone greetings such as "Thank you for calling ABC Company. My name is [blank]. How can I help you today?".
Based on your customized call-handling instructions, we either forward the call directly to you, take a message, or send the caller to voicemail.
When the call is complete, the receptionist sends an email, text, or app notification with the caller's message and any relevant details.
We can engage your callers in other ways including answering FAQs, scheduling appointments, and completing short intake forms.
These services allow your business to stay connected to customers via email, app notifications, live chat, text, or any other preferred communication methods while also boosting customer engagement.
Looking for Custom Phone Answering for Your Business
Features of Virtual Receptionist Services for Growing Businesses
Managing a small business is hard work, but luckily you don't have to do it alone. Our virtual receptionist services in Canada give you the following competitive advantages.
Outsource Phone Answering Services for Your Small Business
3C Contact Services is a Toronto-based call center that provides SMBs around the world with exceptional virtual receptionist services. Focused on enhancing customer experiences and providing top-notch support for your business, our team has the right set of technical and practical skills to handle virtually all interactions in a professional and helpful manner.  Contact us today to learn more!