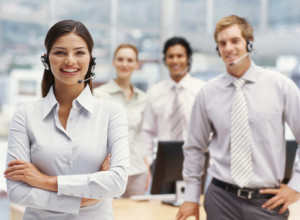 Consumers are more empowered than ever—so much so, that the public's perception of your organization can make or break it. As a result, having outstanding customer service skills is imperative for your call center agents.
When it comes to a successful customer service strategy, words speak louder than actions. Often, the public's perception of your organization can be determined by the words your agents use when speaking to clients. A customer service representative can follow a script that your marketing department spent months working on, but good customer service generally boils down to a few simple niceties:
Ask the Customer How You Can Be of Assistance
Your customer service reps should immediately inquire how they can assist the customer.
Customer service jobs are about adding value to the client's life. If you aren't helping the customer, whether it's with a purchase or an inquiry, they will wonder why they called in the first place. Your agent should determine how they can help—this is an essential part of any call and should take priority over everything else.
Ask Your Customers What Their Thoughts and Opinions Are
Your customer service agents should ask your customers for their thoughts and opinions about your products and services. This is one of the most obvious ways to engage customers that many organizations overlook.
A customer will feel flattered if a representative from the company they are doing business with asks about their opinion. It's also a great way to engage your clients and find out how they feel about your organization. Discovering what your customers like and dislike is an excellent way to determine what works and what doesn't work for your company.
Apologize!
The customer is always right. So if you or one of your agents make a mistake, own up to it. Your customers don't want excuses—they want you to be open about errors. Those two words—"I'm sorry"—can transform a potentially tense situation. If you were at fault, be honest and admit to it. You can come up with a solution, but apologizing should be your first priority.
A sincere apology from a customer service representative can go a long way towards resolving a conflict. It can also promote trust in your organization since you are willing to admit you made a mistake and are taking steps to correct it.
Set Clear Expectations
Most upset customers are results of unmet expectations. The best way to avoid this is to set clear expectations from the beginning. Outline what the customer is to expect from you and what their responsibilities may be. Having each party thoroughly understand its role in the relationship will help avoid future misunderstandings. It can be tempting to sugarcoat a situation when you're trying to sign a new customer, but that could cause problems down the line. Be sure to disclose any potential issues that could arise, and make sure the customer is okay with them before making the sale.
Address Customers by Name
Making customers feel important is a great way to win them over. Customers are aware that you probably deal with multiple customers a day, so using their name will make them feel more important than the rest. When consumers feel valued by a representative, they'll be more susceptible to purchasing whatever you may be selling. Addressing customers by name is also a show of respect—if you have access to this information, then you should use it. Consumers are more likely to do business with a company that they feel values and respects them versus one that doesn't.
Respond Quickly
Sometimes it's impossible to avoid having a customer wait on the line while you try to resolve their issue, but try your best to respond as quickly as possible to avoid the situation from escalating. A good strategy to avoid having the customer feel like they're waiting eons for a response is to update them on what you're doing as you do it. Even though it might take a while to resolve their issue, they'll know that progress is being made. Once they're aware that you actually doing everything you can to help them and not just saying that you are, chances are their impatience will subside.
Focus on Providing Value to Customers
Focus is often placed on promoting good and services and not on how these good and services can benefit their customers. Shifting the focus to providing value to consumers can help them realize why they might need your services. Take advantage of SMS marketing to keep local customers in the loop about upcoming sales, and use interactive advertisement to engage customers—think about contests and games they can play to win prizes. Get creative and come up with new ideas to use your marketing tools to provide more value to the customer rather than to promote your goods and services.
Express Empathy to the Customer
When trying to win over a customer who has negative feelings about your company for any reason, the best thing to do is to respond with empathy. First off, if your customer goes on a rant about why they'd never do business with your company, let them vent. They'll run out of steam eventually, which is when you'd take the opportunity to step in with some empathetic responses.
There are a few phrases that you can use to guide the beginning of your response such as: "I can see why you feel that way" and "I understand how frustrating that must be." However, make sure that your answer addresses specifically what they've complained about—nothing's worse than not being heard after going on a rant. The main point is to convey that you understand where they're coming from. After expressing your empathy, begin to explain the positive aspects of your company and tell them how they can benefit from doing business with you.
Thank Your Customers
Make sure your customer service reps thank your customers. It may only be two simple words, but saying "thank you" is a skill that many customer service agents lack. Ask your reps when was the last time they thanked a client at the end of a call.
A simple thank you can make a big difference when it comes to providing your customers with the best service—and one that can win customer loyalty. The thanks should be genuine too; this is an excellent way to make your business appear more personable and engaging.
As the leading provider of outsourced call center solutions, 3C Contact Services teaches its partners the necessary customer service skills needed to engage and retain customers. Contact us today for more information.
Source:
Abercrombie, R., "4 Magic Customer Service Phrases (All in 4 Words or Less)," Business 2 Community web site, August 24, 2015; http://www.business2community.com/customer-experience/4-magic-customer-service-phrases-4-words-less-01303630.