As your business continues to expand and grow in size, it may be time to consider hiring an outsourced call center to handle some of your day-to-day tasks and allow your staff to focus more on core functions outside of customer service. These days, customers expect a lot from companies, regardless of their size. Going above and beyond to provide your customers not only with the services they're seeking, but also with an extremely positive experience is absolutely pivotal and demonstrates that you appreciate and value them. Competitively, this is an invaluable and ingenious business model that'll help you stay well ahead of the game and obtain unwavering customer loyalty, not to mention return business, and excellent word-of-mouth recommendations.
If the prospect of attracting more customers and building up your brand sounds like it's right up your alley, then you should already be aiming to find the best outsourced call center solutions on the market right now.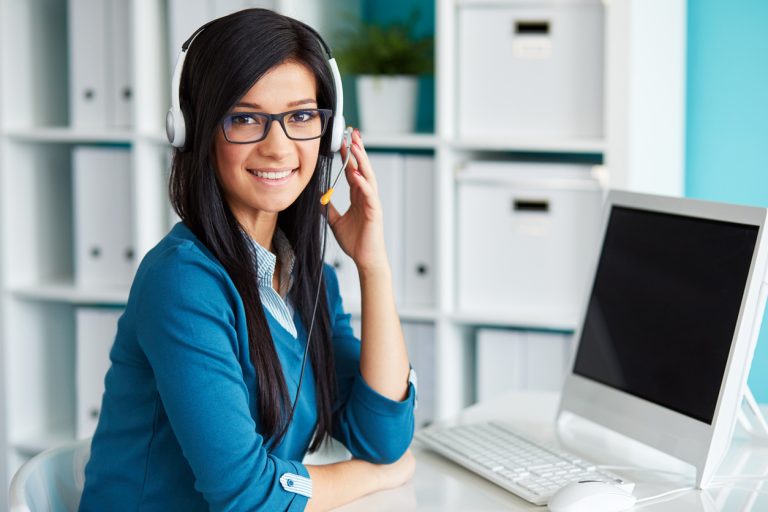 iStock.com/Rostislav_Sedlacek
When Is the Right Time to Start Outsourcing Customer Service?
Before you even begin to consider embarking on this journey, you need to take a step back and closely evaluate your current business model and plan. Ask yourself how far has your business come since you first started it? What are your goals in the next few months or years? Do you foresee growing your business to the point where you might need to increase the size of your staff in the near future? What are your sales and customer acquisition projections for the next few months and upcoming fiscal year?
These are all important questions you should be using as a business evaluation rubric when it comes to the expansion and growth trajectory of your business. Being able to accurately predict the future needs of your business based on current trends is an excellent asset that can help you determine exactly when the right time is to hire an outsourced call center. Here are a few telltale signs that your business is ready to take the plunge:
High Call Volume and Customer Overflow
Right now, you probably have a small staff of employees handling several important tasks including customer acquisition, data entry, and answering inquiries either on the phone, via e-mail, or through live chat services. Take the time to examine the volume of customer contact you're receiving on a daily basis and how long those customers are stuck waiting on the line for a representative to become available. If you find that your current in-house customer service staff is insufficient to handle the increasing call volume of your business and you're getting a great deal of dropped calls, then this is a huge sign that you need to consider outsourcing your services to a reputable call center.
Unskilled Staff
While members of your staff might be skilled at other aspects of their jobs such as filing paperwork, data entry, or creating marketing materials, inside sales isn't necessarily everyone's forte. You need talented, charismatic, and results-driven customer service agents and salespeople representing your company on the phone, via e-mail, on social media, and through live chat services. If you find that your current customer service staff is underperforming when it comes to handling even the simplest of customer inquiries, then it's time to look for outsourced customer service solutions.
Declining Business
There's nothing more discouraging for a lot of business owners than witnessing a steady decline in their customer base. To prevent the problem from getting worse, you need to find the right solutions to help you improve your customer outreach. In some cases, rebranding is a viable option, while in others, hiring talented customer service agents and salespeople to manage your client relations is the right solution. The first thing you need to do is evaluate your numbers. How many customers have you acquired in the past month and how many have you lost?
Keep in mind that the numbers don't lie. The next thing you need to do is try to determine what's causing your customers to forego your business in favour of your competitors. Long wait times, insufficient customer service, and inexperienced and unknowledgeable customer service agents can all be major deterrents for your business.
Inefficient or Outdated In-House Systems
Technology is the main driving force behind every industry in existence and customer service is no exception to this rule. In order to consistently deliver exceptional customer service, your employees need the top-of-the-line technological systems, software, and applications available to them at all times. Customers expect top-notch service whenever they need it and they don't care if your system is currently malfunctioning due to information or user overload. They want to know that your company is available to them at all hours of the day or night and in order to meet this demand, you need to make sure that you have the most up-to-date technology in your arsenal. When you hire an outsourced call center in Canada, all of these systems are automatically included in your package at no additional cost and this means you don't have to worry about purchasing them yourself.
Need for Rebranding
As mentioned, some businesses need to rebrand their image in order to acquire a larger customer base and retain the clients they've already gained. Rebranding is a solution for businesses that feel as if they're stuck in a rut and have nowhere to go from their current position or have somehow gained a negative reputation. It's not only an excellent way to rebuild and repair relationships with existing or past customers whose experiences with your business were tarnished for one reason or another, it's also a great way to spread the word out even more about your business, products, and services. Qualified and dedicated customer service agents can easily help you rebrand your business and reach out to your desired target demographics on a much larger scale than you otherwise would've been able to do on your own.
Budget and Investment Issues
One of the things that small and medium-sized businesses often struggle with is streamlining ways to allocate their budget towards greater customer interaction and engagement. Outsourced call centers offer affordable and convenient solutions to help you reach a wider array of customers on your terms without having to overstretch your time, resources, money, or the capabilities of your in-house employees.
Best Outsourced Call Center Solutions in Canada
As one of the leading outsourced call center services in Canada, 3C Contact Services is proud to provide our clients with high-quality sales, lead qualification, and customer relations services that help improve your bottom line. We specialize in providing customer satisfaction on behalf of your business. Contact us today to learn more!