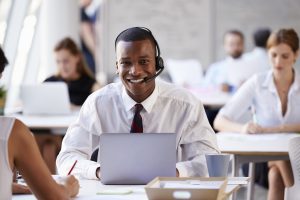 Customers often get frustrated when they call customer support lines and feel that they're given generic advice rather than advice that is tailored to their specific situations. While a lot of customer support is now automated or conducted through technological conduits, there are still ways to humanize the customer support experience for consumers. You can create the ideal customer experience strategy by empowering employees, making use of customer support channels, and evaluating customer feedback. Keep on reading to find out exactly how to use these methods to humanize your customer service experience.
3 Ways to Humanize the Customer Experience
Empower Employees
First and foremost, focus on building and empowering your staff to create a team of functional customer care representatives. When you instill pride and trust in your employees, they'll be more confident when speaking to customers. They'll be happier and will be willingly speak positively about your company, ultimately improving the customer's experience.
While scripts can be helpful in the training stage, encourage your staff to stick to what feels most natural to them. Customers realize when they're being fed pre-determined lines, and it'll give them the impression that the representative is detached and will make them feel unimportant. Prevent this by thoroughly training your staff and preparing them to handle any situation that may be thrown at them.
Utilize Multiple Customer Support Channels
Customers can reach brand representatives for support multiple ways, including through e-mail, phone, social media, and even live chat support. Use these channels of communication to your advantage and harness the social conversation. A general complaint on Twitter, for example, can be turned into one-on-one human communication to provide improved, more efficient, and accessible customer support. The ways in which you focus your interactions will depend on your specific demographics—Millennials are more likely to seek help using social media and live chat whereas older generations might prefer assistance over the telephone. Whatever the case may be, you can use these communication channels to work towards improving your overall customer service experience.
Evaluate Customer Feedback
Carefully evaluating customer feedback is one of the most effective ways to humanize your customer support; there's nothing more helpful than simply listening to what your customers have to say. They're the ones receiving the service, and they're the ones who know best in terms of what's helpful and what isn't. You can implore them to participate in customer satisfaction surveys after interacting with a representative to gauge how well they were served. Use this information to make improvements on current procedures, which will ultimately help your continued efforts to humanize your customer support experience.
If you're looking for more ways to enhance your customer support, let 3C Contact Services help. Our expert customer care representatives and live chat services will humanize your customers' experiences and let them know how valued they are. Whether your business is in need of customer retention, an e-mail management service, or a quality assurance program, we've got the solution for you. Contact us to take advantage of our efficient and affordable services and begin growing your business today.