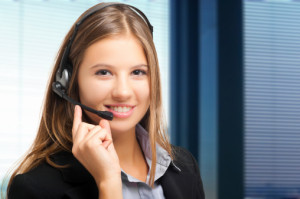 Good customer service can be the determining factor in your company's success. Many companies do not understand both the importance of customer service and what it takes to provide it in an excellent manner. Learning how to make your customer service stand out will create a loyal follower base and give you an edge up on your competitors.
Here are some customer service tips that will help you stand out from the crowd.
Ask Questions and Get Feedback
Customer service is primarily about communicating with your customer. Many companies use one-sided automated voice response systems or scripts for their representatives, which assume that every customer is the same. Good customer service recognizes that each customer is an individual and that you will need to treat them as such. By asking questions, you can get to the heart of a customer's problem and figure out a solution that will truly satisfy them. As well, by soliciting feedback from your customer, you can determine whether you are satisfying their needs and learn what to improve on. Create a dialogue between you and your customer.
Be Friendly and Personal
People like to speak with other people. While automated voice response systems have their place, customers prefer to talk with a representative from your company. However, if your representative sounds more like a robot than a real person, then it won't make much of a difference. Many companies have their representatives follow formal scripts. Ditch the script. Instead, use a guide or list that provides your representative with a framework to follow while allowing them to complement it with their own personality and style. The Ritz-Carlton Hotel Company found that when they got rid of the formal scripts for their employees and allowed their representatives to take a more relaxed approach, customer satisfaction increased.
Provide Training for Your Customer Service Reps
Many companies do not consider their customer service roles on par with other positions within their company. Like with any role, qualified candidates and proper training are necessary for good customer service. From tech companies like Google to fast-food chains like Pizza Hut, customer service training is always conducted. Not only does this help employees develop the necessary skills and tools to provide good service, but it can also be used to instil a consistent company brand or approach which your representatives can follow. If you do not have experience in this field, you can contract out your customer service to a company that can provide representatives who have the proper qualifications and skills.
Exceed Expectations
Excellent customer service goes above and beyond. When a customer has a major complaint, simply fixing their problem may leave them still feeling negatively about your company. Always strive to find ways that change the interaction from negative to positive. Compliment your customer when appropriate and give them gestures of appreciation for their support, such as a special deal or a service that meets their specific needs. Exceeding expectations is how you create customer loyalty.
Have a Vision for Your Customer Service Goals
Every business has its own specific set of goals that it strives to attain. Having a vision of how you strive to offer customer service to your clients should also be clearly stated. The entire team should be focused on this vision with each call and each interaction. Having the team clear on a company vision sets the standards for the type of service you collectively expect to deliver.
Push for Innovative Customer Service
Technology has made it possible for innovation to happen in nearly any sector. Don't get comfortable thinking there is no space for innovation within customer service. Continually finding ways to utilize technology to improve the service you provide to your customers is something that should be constant. Remember that innovation isn't revolution. You're simply moving your current systems one step further. If you think in terms of increments, you realize how much innovation is possible.
Be Available for Your Customers
You can win half the battle with your customers simply by being present. By answering the phone in a timely fashion or by responding to e-mails quickly, you're already showing the customer that they are a priority. Not doing these things sends the wrong message to customers. It forces them to believe that they are not a priority and that you must have more important things to do than to help with their problems.
Avoid Frustration
No doubt, there are times when you will feel frustrated. A customer will say something that might get under your skin, or maybe you're just having a bad day at the office. Whatever the case, you can't let any of this get to you. You must stay calm and avoid getting frustrated. Customers will read your tone and it will become difficult to offer effective customer service if you are feeling aggravated in any way.
Create Customer Rapport
Although you want to be as efficient as possible with every interaction, you'll find that building a rapport with customers makes finding solutions to their problems that much easier. That's because, once you build that rapport, customers trust you. They are able to communicate with less tension, and you are able to better service their needs.
As the leading provider of outsourced call center solutions, 3C Contact Services teaches its partners the necessary customer service skills needed to engage and retain customers. Contact us today for more information.