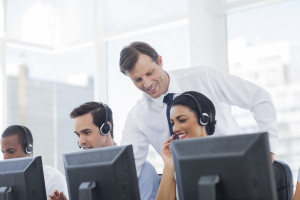 Working in a fast-paced call center can be stressful and challenging. The call center work environment is more challenging than many others, which is why employee burnout can be possible in a poorly run company. Dealing with frustrated customers, sticking to strict work timelines, and reaching defined benchmarks are all challenges that customer service agents have to deal with.
However, there are particular challenges faced by call center managers. As a manager, you must be able to deal with the most difficult and frustrating problems, finding resolutions for the issues that agents cannot handle. As well, call center managers must oversee the entire call center, ensuring that they are providing the best service and meeting (or exceeding) all metrics and goals.
Here are some of the biggest challenges faced by call center managers.
Challenge #1: Finding and Keeping the Right Agents
Effective customer service requires trained, professional agents with both knowledge and experience. Call center teams are crucial to providing good service, and customer service is a skill set like any other. One poor or unqualified agent can easily create problems, causing issues with customers and costing a call center's clients. Call center managers not only have to assemble the right teams—they also have to create the right work environment that fosters employee relationships and improves satisfaction. Furthermore, managers need to provide the right training and guidance to help employees both perform better and lower their stress.
Challenge #2: Using the Right Data
To improve performance in a call center, using the right information and data is critical. Call centers need to create informed strategies and work processes based off of collected data, not just guesses or feelings. That means constantly evaluating agents' performance and determining which methods lead to success and which can use improvement. Managers need to create channels for consistent, clear, and organized reporting, and they need to put in place the proper technology to track their call center's success rate.
Challenge #3: Dealing with Customer Trends
Customers are constantly changing and evolving, and call centers need to stay on top of these changes to achieve success. Every call center needs to be able to tailor their service towards different customers depending on demographics, industries, and geography. This means analysis of trends, flexible service, and a constant evaluation of success rates are necessary.
Challenge #4: Avoiding and Mitigating PR Issues
In the age of the Internet, one mistake is all it takes for a PR disaster to develop, costing a business money, clients, or its reputation. Call centers have less room for error than ever before, and call center managers need to ensure that customer issues are quickly resolved and mitigated. Social media allows a bad experience to spread across the Internet in less than one hour. Call center managers need to train employees to be social media savvy and to quickly resolve customer complaints.
Challenge #5: Operating Efficiently
Call centers can be unpredictable, which makes both overstaffing and understaffing problems. Call center managers need to be able to hit a specific point, having just enough agents to handle calls while keeping staffing costs low. Creating customer service teams, as well as using a mix of shared and dedicated agents, can help call center managers create flexible service that meets their clients' needs without overstaffing.
As the leading provider of outsourced call center solutions, 3C Contact Services teaches its partners the necessary customer service skills to engage and retain customers and clients. To learn more about our call center solutions, call us today at 1-888-353-2335.