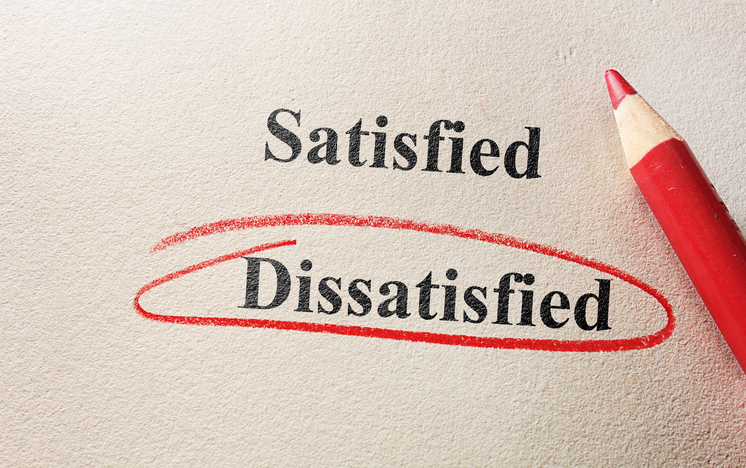 Customer complaints may seem like a downer or a negative reflection of your company, which they can be, but they're also loaded with useful information and customer insights that you can use to your advantage. When customers submit a complaint about your service or product, you'll be able to use their feedback to make improvements where needed. One of the disadvantages of customer complaints is hearing negative reviews about a product that you've put your all into and are passionate about. However, while it's not always a good feeling to receive complaints, remember that no business is ever perfect no matter how many changes they make, and that there are a ton of benefits of customer complaints. Looking past the initial negativity associated with complaints can help you realize what a blessing in disguise they can be—think of them as free customer insights, without you having to invest in feedback surveys or something else of the same nature.
What Is a Customer Complaint?
The first step in using complaints to your advantage is to ask: what is a customer complaint? There could be a variety of reasons for customer complaints, but the most common one is that they're dissatisfied in some way with your product or service. Not all customers will take the time to call and tell you about their disappointment, but the ones that do are usually passionate about what they're calling to tell you or are loyal to your brand. There may be a way to remedy the issue the customer calls about, but sometimes there's nothing you can do. Either way, the feedback can be useful to you in a variety of ways.
Why Customer Complaints Are Good for Your Business
As we've mentioned, customer complaints are an awesome way to collect feedback on areas that need improvement. Companies often ask customers to participate in feedback surveys, but those cost time and money, whereas evaluating complaints is free. Here are a few reasons why you should realize the importance of customer complaints:
Understand Customers Better
Consumers can offer you insight into your products and services that you, as a business owner, may lack. Understanding your customers, their qualms, and their needs will help you serve them better. Even if a customer calls to mention a minor inconvenience, you can keep this in the back of your mind to make changes down the line, when you're in the position to offer the luxury of convenience to your customers. The easier you make things for your customers, the more likely they are to continue choosing your brand over others.
Recognize Your Mistakes
For every complaint you receive, there are probably a dozen other customers who experienced the same thing but didn't speak up. Pay careful attention to the issues that customers bring up when they call in to make a complaint, especially if it's something that seems to be reoccurring and is brought up by more than one person. Evaluating these concerns can help you troubleshoot problems you didn't even know were there and continue to improve your business.
Build Customer Loyalty
Many consumers call a company's customer service line to make a complaint, with the intention of being compensated or receiving a solution to their problem. Ensure that your call center agents respond to their communication in a timely manner and let them know that their business is appreciated. Even if they can't offer them a solution, compensating them in some other way will show your company's appreciation and encourage them to stick with your brand despite any mishaps they may have experienced. Handling customer complaints effectively is important, because it's often the make-or-break point when it comes to ensuing loyalty to your brand.
Increase Word-of-Mouth
Why is it important to handle customer complaints? The more satisfied customers are with your service, the more likely they are to refer their friends and family to you. When your company addresses complaints in an appropriate manner, customers will be left with a positive image in their mind, even if your product or service didn't initially meet their expectations. Customer service has a lot to do with how well consumers react to your brand, and it's imperative that representatives keep this in mind when helping customers. Word-of-mouth recommendations are invaluable, and are often more effective than any type of commercial or ad you can buy. When other potential customers hear individuals they trust praise your company, they're more likely to give you their business, too. This illustrates why complaints handling is important.
Improve Communication with Customers
Communicating effectively with customers is a huge part of running a successful business. When customers call to make a complaint, and they see that their feedback was actually taken into account and that changes were made, they'll appreciate that their voice was heard. Many customers refrain from making complaints or voicing their concerns altogether because they believe companies don't care and won't take action. When you do the opposite and show them that you've listened and that their satisfaction is important to you, customers will realize that your lines of communication are actually open, and not just there to simply be there.
Resolve Customer Complaints with Our Customer Call Center in Toronto
Evaluating customer complaints is time consuming and can use up a lot of your resources—unless you have a complaint handling call center. 3C Contact Services is the top customer call center in Toronto and is able to handle all of your customer complaints with ease. Our highly trained customer care agents can answer, resolve, and evaluate all customer feedback for your company. By allowing us to field your customer complaints and evaluate them on your behalf, you'll get all the beneficial insight without having to do any of the work yourself. Contact us today to learn more about our services and how we can help you grow your business.