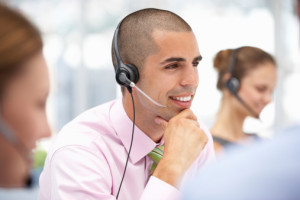 It's the height of summer and the holiday shopping season is the last thing on many call center managers' minds. Many don't even begin to think about it until at least the late summer or early fall.
Christmas is the most profitable, not to mention busy, time for any business. Call centers experience a higher-than-normal volume of calls during the holiday season. That's why it's strongly recommended that managers start preparing for the increase in calls months in advance.
10 Customer Service Tips to Boost Business This Christmas
The Coordination Period
The months leading up the holiday season should be when a manager and their agents figure out their plan of attack. They should also be prepared for any unexpected situations that may arise during the busy period. Christmas is a time where it will be especially important for the members of your team to work together to overcome any situations that may arise. This can also provide an excellent indicator of how well your team works together in high-pressure situations.
Prepare for the Negative
It's inevitable that a call center is going to receive calls from upset customers. Perhaps an order wasn't delivered on time or they didn't receive what they ordered. Another unpleasant part of their job will be collecting bills after the holidays are over.
Realize that often customers are dealing with stress themselves as they prepare for family gatherings, shopping, and such in the time leading up to the holiday season. This is in addition to the stress of increased volume at your call center.
One way that many call centers deal with the increased volume of calls during any busy period is by hiring additional staff. However, you don't want to drop them into the thick of the action. Hire the additional staff well in advance so they can be trained and ready to deal with the high volume of calls.
Even if they're just trained on the basics, veteran agents can deal with more complicated issues, along with helping to process orders in an efficient manner. Depending on the volume, you can hire agents on a full- or part-time basis.
Bad Service During the Holidays Can Affect You Year-Round
If your customers receive a bad experience during the holidays, a high-stress time for many people, it can damage your company's image beyond that frame of time. Whether it's on social media or just to their family or friends, this is not the type of word of mouth you'd want for your organization.
Find Out What Works
The holiday season can also provide you with an excellent opportunity to find out what works for your business and what doesn't. Once you discover the programs that are successful, keep them going through the year.
It's also an excellent time to gauge what your customers think of the service your agents provide. Survey them after the holidays are over to find out about their experience.
Up-to-Date Customer Information
Nothing is more of a waste of time than preparing and sending communication to customers who no longer have the same contact info. Efficiency is important, and gauging your response rates becomes skewed if you are sending sales and coupons or other deals to wrong contacts. Update your customer contact info before sending anything.
Have a Seasonal Promotional Plan
The holidays present far too big of a revenue opportunity for you not to have a plan specifically dedicated for their duration. From pre-holiday deals all the way to post-holiday offers, your business needs to devise a strategy for engaging customers that spans the breadth of the holiday season.
Reward Loyal Customers
The Christmas holidays are the time for giving. So, why not share some of that giving spirit with the customers who have been most loyal? A loyal customer is gold for any business, and they should be treated as such. Although most businesses save most of the introductory rates and benefits to attract new customers, it would be a great benefit to your business to create a loyalty program that rewards customers for continued spending with your company.
Gifts for Customers
There's nothing wrong with giving some of your best customers a holiday gift. It doesn't have to be extravagant—something simple like a bottle of wine or a box of chocolates will do just fine. The point is to let your customers know that they are appreciated. Without them, you have no business, so showing gratitude for their loyalty is a good way to say thank you.
Send a Holiday Card to Your Customers
Who doesn't like getting a holiday card? And coming from the business where the customer has spent money, that card can go a long way in solidifying the relationship. It doesn't need to be anything over the top—just something simple that expresses your graciousness for their support of what you do is enough.
3C Contact Services, the leading provider of outsourced call center solutions, works closely with their partners to provide tips on how to successfully navigate the busy period leading up to the holiday season. For more information on available services, visit the company web site.