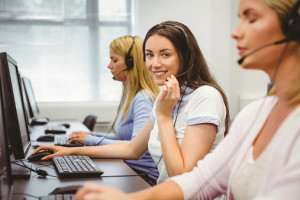 Let's face it, the job market is tough for millennials. That's why a growing number of them are accepting customer service positions and call center jobs after they graduate—whether or not it's in their field of study. Despite the recession of the late 2000's being over, jobs for recent graduates are still hard to come by; some recent grads take on call center jobs as a way to make ends meet.
According to the Bureau of Labor Statistics (BLS), in 2007, just before the recession hit, call centers employed 415,400 people in the U.S. alone. That number has swelled to well over half a million people in the last eight years.
And millenials make up a good portion of that work force; according to the BLS, 40% of call center employees are between the ages of 20 and 35.
Why Call Center Jobs are a Positive Sign
Economists see the growth in North American call centers as a positive sign. Organizations are bringing much-needed jobs back to Canada and the U.S. For millennials who are still reeling from the effects of the recession, call center positions provide them with ample job opportunities, valuable learning experiences as well as job advancements.
What Call Centers Look for in Agents
Call centers sometimes have negative reputations since they are often viewed as being high-stress "white collar sweatshops." But, that's not the case. If an agent can handle stress, has a friendly demeanor and can deal with irate customers, then working in a call center can provide them with valuable experience. Many jobs are deadline-oriented so learning to manage stress by working at a call center can help a young worker who is starting out in the workforce develop these skills.
What to Look for in a Call Center Job
If you're looking for a job in a call center, do your research. If the call center has a high turnover rate, and the management has a reputation for being taskmasters, then stay away. Established and reputable call center supervisors realize the importance of retaining employees; this is why more organizations are taking steps to ensure their dependable agents—whether young or old—remain at the company. Incentives typically include competitive wages, bonuses, promotions advancements and well-needed breaks.
It may take some trial and error—but many millennials working in the call center industry have found rewarding jobs that they love.
It's a Foot in the Door
Many call centers are often part of a larger organization and employees have access to internal job postings before they are made public. So it's possible for employees to gain valuable experience at the call center before transitioning to another opportunity within their field in the very same company.
As the leading provider of outsourced call center solutions, 3C Contact Services provides call center agents with the necessary skills to excel at their jobs. Contact us for more information on our available services.
Source:
Mason, E., "Why are so Many College-Educated Millenials Doing This For a Living?" Refinery 29 web site, August 12, 2015; http://www.refinery29.com/2015/08/91661/call-center-jobs-college-graduate-employment.