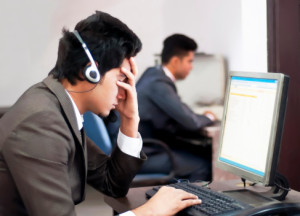 Let's be honest; working as a call center agent isn't exactly on the top of people's list of desirable jobs. The image that many have of working in a call center is one of limited creativity and repetitive tasks.
Whether it's dealing with angry customers or management, it's no wonder that the turnover rate for call center jobs can be as high as 70% at large organizations.
U.S. company Tenacity is living up to its name by creating a way for call centers and other business with high turnover rates to hold on to workers. Using an approach known as "social physics," utilizing data to analyze human behavior, they've created several ways to motivate employees.
Besides cutting down on the turnover rate, having employees that feel they are being engaged in their job can also help an organization's bottom line. Companies with a high employee engagement rate enjoyed growth of 10% to 15%.
Make the Job a Game
"Gamification" is a popular strategy that uses tactics like leader boards to show who is leading in sales and call completion, badges for achievements, and reward points to transform work into a fun game. This encourages both intrinsic and extrinsic motivation in the employee. With such competitive approaches, they are more inclined to make a difference and are thus motivated to receive recognition for it. Gamification capitalizes on the already competitive environment of a call center and presents it in a positive light.
Breathing Exercises
There's no doubt that working in a call center is a highly stressful job. Doing breathing exercises is a simple yet effective way to cut down on stress. Taking a moment after an emotionally-draining call to take a few deep, calming breaths can lower stress considerably so the agent is ready to deal with the next caller in the queue.
The less stressed the agent is, the more at ease the caller feels.
Socializing
Call center jobs can often be isolating with the agent tied to their desk and headset for extended periods of time. That's why group challenges, or even going out to socialize after work, are recommended. Group activities encourage staff to work together and form bonds. This has a hidden bonus of increasing productivity. This kind of indirect team-building nourished productivity both on and off the job itself. An environment where agents are comfortable in each other's company is more conducive to focus and better spirits.
Offer Encouragement, Not Stress
Call managers often push their agents to work hard and fast to get through a maximum number of calls in the shortest possible span of time. While beneficial for getting through high volumes, this can become isolating and stressful if done in excess. Finding ways to motivate agents, even if only through words of encouragement for their achievements, can take the edge off when there is a high call volume. By focusing on agents instead of the product, an organization reaps the benefits in the form of improved productivity and retention.
3C Contact Services offers partners a number of strategies to motivate staff and transform their call center into a positive work environment that runs smoothly.