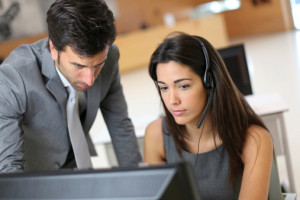 An increasing number of businesses are turning to call centers to take care of their customer service needs. A call center agent has the necessary skills to deal with any issues a client may have. Technology helps make placing an order or troubleshooting easier as well.
However, the most common complaint that customers have about trying to reach an agent is that it can feel like navigating a maze. Unfortunately, many interactive voice response systems (IVRS) were made for businesses' needs—not consumers' needs.
Besides streamlining your IVRS so that your clients can quickly reach the appropriate agent, there are a number of ways that you can improve the experience of calling a call center.
The Power of Social Media
Most businesses have a page on Facebook as well as a Twitter feed. Not only are these excellent promotional tools, but that can also give customers with a way to reach out to a call center agent as well.
Invite your customers to post questions or issues they may have. Have an agent monitor the page or feed throughout the day and promptly respond to any queries that may come up. Thank your customers for bringing the issue to your attention as well.
It is recommended that you switch this job between several agents or have one handle it in addition to their other duties.
Assign a Call Back Time
One of the biggest complaints that customers have about calling into a contact center is the wait time. That's why an increasing number of organizations are giving clients the option of requesting a call center agent call them back at a time that's more convenient to them.
It is vitally important that your agent call the customer back at the assigned time, or as close to it as possible. If the agent isn't be able to return the call, assign it to another one.
Live Chat
More and more customers are turning to the internet to place an order or resolve an issue. That is why more and more call centers are offering clients the option of reaching an agent through live chat.
Call center jobs now include the ability to handle multiple chats. If it seems like the agent who has been assigned to chat is being overwhelmed, it is recommended that you assign multiple agents to handling web chats.
Other Ways to Enhance Customer Experience
Beyond making your IVRS easier to navigate in addition to the tips outlined, other recommendations include providing an FAQ on your web site so customers won't have to call in for commonly asked questions.
If the customer is going to be on hold for any amount of time, try to make the experience less boring. Another customer complaint is that hold music is often an aural sleeping pill.
It's also advisable to avoid transferring a customer multiple times. This is one of the top complaints customers have when calling into a call center. Your IVRS should clearly outline where clients need to direct their calls and your agents should have a clear understanding of how calls should be routed. If they don't reach the correct call center agent on the first try, the one they do reach needs to be able to properly direct their call.
As the leading provider of outsourced call center solutions, 3C Contact Services offers partners a number of tips on how to streamline every aspect of their business. For more information on how your business can benefit, visit the company web site.