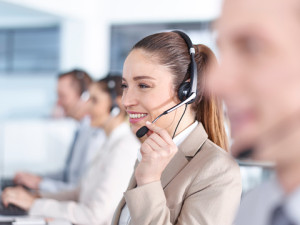 Small and medium-sized businesses (SMBs) often have limited budgets. Having staff members answer the phone all day can be a costly prospect that consumes valuable resources. For many SMBs, an interactive voice response (IVR) system may be the solution.
An IVR system allows a computer to interact with customers through the use of voice and a touchtone keypad. A computer will answer your customers' calls—whether it's a simple inquiry or a customer looking to place an order or pay a bill. This system will allow your employees to focus on the more important aspects of your day-to-day business.
The Goal of IVR Systems
When an organization institutes an IVR system, it's so their customers can handle transactions in an efficient manner. Depending on the solution you choose, the system will handle customer calls using either voice-recognition or touch-tone recognition technology.
This can also be an effective way to direct calls within your organization properly. Just make sure that the instructions are clear and concise.
IVR Systems Aren't Just For Big Businesses
IVR systems were common in large organizations for many years due to the large volume of calls they could handle. In recent years, an increasing number of SMBs have started to embrace IVR systems due to their ability to effectively manage customer inquiries and transactions.
A 2014 report from Global Industry Analysts Inc. predicts that SMBs will account for $2.8 billion in sales for IVR systems around the world by 2017.
Thank the Cloud!
The widespread adoption of the cloud has made IVR systems much more accessible for SMBs. In the past, an interactive voice response system required dedicated phone lines and specialized equipment. Now, an organization can hire a cloud hosting company to host their IVR system for them.
Inbound vs. Outbound
If you're looking at an IVR system for your business, you'll need to consider whether or not you're going to need an inbound or outbound system. This will depend on the type of call center you run. An inbound system will direct customer calls accordingly, answer inquiries, or let customers pay bills or place orders.
An outbound system can be used to contact customers for surveys and make them aware of special offers. An organization can also use this type of system to let customers know about the status of their order or that a payment has been received.
Benefits of IVR
There are many advantages to instituting an IVR system. In addition to being cost-effective and easy to set up, implementing an IVR system means you can cut down on the amount of time you spend training new agents since the system will take care of the host of customer inquiries. Your agents will also have free time to focus on other important aspects of your business.
Finally, look for various ways you can improve your IVR system by seeking customer feedback. Be sure to keep everything streamlined and easy to understand to avoid customer frustration.
Keep in mind—in addition to an IVR system, make sure to include an easy-to-understand FAQ section on your website that customers can be directed to in order to find answers to frequently asked questions.
If you're looking at an interactive voice response system for your business, contact 3C Contact Services. We provide professional call center solutions designed with customer service at the forefront. For more information on our contact center solutions, or how to implement an IVR system for your business, contact us today.