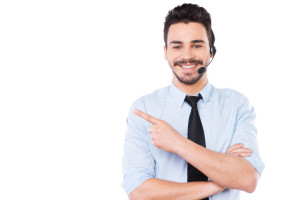 When it comes to customer service in the modern age, it is more important than ever for outbound call centers to be proactive when it comes to contacting and engaging customers. Call centers no longer just passively answer phone calls and respond to complaints. Instead, good call centers are now integral to the success of a business. Customer service should be intertwined with sales, marketing, and customer retention. This requires a more proactive approach.
There are some techniques and strategies that good outbound call centers will use in order to be more proactive when interacting with customers.
Make Good First Impressions
First impressions are important, but usually businesses are limited when it comes to controlling when and how a first impression occurs. One of the great things about outbound call centers is that they provide the opportunity for a proactive approach to creating positive first impressions. Proactive welcome calls are a great way to greet new customers to your business and provide a personal touch that will go a long way toward creating good first impressions and customer loyalty.
Take Initiative
There needs to be proactive communication in outbound call centers. This means taking advantage of every opportunity to initiate communication with your customers. Businesses should not wait for customers to contact them. If their complaints aren't being answered or if service is shoddy, many angry or dissatisfied customers will simply switch to a competitor. When a business knows that service has been poor or a customer is dissatisfied, customer retention is crucial. Outbound call centers should directly contact customers by phone and offer a resolution to the problem rather than passively wait for complaints.
Integrate Sales
By using proactive communication, outbound call centers can increase sales, profit, and customer retention rates. Statistics have shown that one of the most effective ways to grow a business is by targeting your existing customer base and focusing on increasing customer retention. Upselling and cross-selling are two techniques which can increase revenue greatly and can be used in conjunction with regular customer service. When a business follows up on a sale or resolves a customer's query, it is also a perfect opportunity to make additional sales.
Don't Use Scripts
Many call centers will use scripts or formulas for all of their agents to follow. However, proactive approaches only work when they are tailored toward an individual customer. For instance, an offer that is appropriate in one context may be seen as a slight in another context. As well, upselling may be appropriate when you have answered a customer's question but not after a customer has complained about service. Outbound call centers, more so than other call centers, need to empower their agents so that they can effectively respond to different customers and make decisions based on their needs. Using trained professionals who can make informed judgments is necessary for proactive communication.
As the leading provider of outsourced call center solutions, 3C Contact Services teaches its partners the necessary customer service skills needed to engage and retain customers. For more information, call us today at 1-888-353-2335.