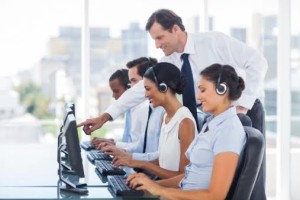 The holiday season can be one of the most difficult times for your business. With customers rushing to finish shopping at the last minute, many unprepared businesses can become easily overwhelmed and end up angering customers by providing subpar service. While the holiday rush may easily be one of the busiest times for a company, following good customer service practices can ensure that you are prepared and ready for handling the most wonderful—and challenging—time of the year.
Here are some customer service tips that can help ensure you can handle a holiday rush.
Prepare
If you want to avoid a customer service disaster, you need to plan ahead. When preparing for a holiday period, you should begin planning at least a few months before. Forecasting the amount of customers you can expect will help you be ready for rush periods. Look at your business's growth, statistics from holiday periods during previous years, and prior customer satisfaction ratings.
Consider Temp Workers
Hiring temp workers is standard practice for dealing with the holiday season. Since businesses do not have the same level of business year-round, it makes sense to hire more help for when you need it. In the long run, this will be a lot cheaper than a major customer service disaster. As well, consider using a call center, which can allocate more resources and employees for your customer service during peak periods.
Institute Proper Training
Customer service is different during the holidays. You will likely have a high volume of calls or customer inquiries and you will need to deal with them quickly and efficiently to avoid becoming overwhelmed. Institute proper holiday season training or hire trained professionals who know the best practices for dealing with rushes.
Use Triaging
"Triaging" is a technique where complaints and inquiries are immediately labelled and assigned to the right individual. It is a way of organizing customer cases quickly and efficiently, allowing you to focus on priority cases and designate different employees or responses depending on the needs of your customer.
Ensure Self-Service
One of the easiest ways to reduce high volumes of customer cases is by allowing your customer to solve their issue by themselves. This means making use of online FAQs and tutorials that your customer can use. If they can find their answer online, they will not flood your customer service line or require additional help. This is a great way to prune down on the volume of customer cases you are dealing with. Creating a seasonal or holiday-specific FAQ can address questions your customers have during the holiday season.
Emphasize Online Services
Customers can often be more quickly dealt with through e-mail and online chats than through the phone. To reduce being flooded with phone calls, emphasize your online services. Send out e-mail inquiries, have an online chat pop-up on your web site, and use other methods for diverting customers into different customer service streams.
As the leading provider of outsourced call center solutions, 3C Contact Services teaches its partners the necessary customer service skills needed to engage and retain customers. Contact us today for more information.