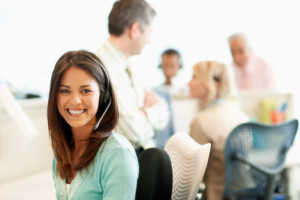 When companies look for a call center to handle their business needs, location is an important consideration. Business process outsourcing (BPO) is common in many companies as a way to cut costs, but often it is more affordable and beneficial to outsource to nearby locations. Nearshore outsourcing is when a company in one country outsources to a call center or other service company within a neighbouring country.
For American companies, nearshore outsourcing to Canada is often preferable to outsourcing across the ocean. With America and Canada sharing many similarities and sensibilities, outsourcing to a Canadian call center can have a lot of benefits. Here are just a few of the reasons why Canada should be at the top of the list for American companies' nearshore outsourcing.
Costs
The prime reason for outsourcing is always to save on costs. With the Canadian dollar substantially lower than the American, a little money can go a long way when outsourcing to Canada. Many large American companies already outsource to Canada, where there is no difference in the education or quality of the workers. Using a homegrown call center will typically require a lot more money for no improvement in service.
Quality
When it comes to an educated and skilled workforce, Canada is unparalleled. Canada is currently one of the leading countries when it comes to producing college graduates. When you use a Canadian call center, you can rest assured that the agents used come from a talented and competitive workforce. Furthermore, agent turnover is half as low in Canada as it is in other countries like the Philippines. This means that Canadian call centers can save money on hiring and training, and these savings will be passed back to you.
Travel
There will be times where you will need to send employees to a call center that you use. It is typical for companies to send vendor managers to call centers once or twice a year. With this in mind, it is important to use a call center that is somewhat close to home. Travelling to India is both expensive (a plane ticket can be upwards of $3,000) and time-consuming (a plane trip can take up to 15 hours). Using a Canadian call center will make it easy and affordable for your company to send employees over when need be.
Culture
Another benefit to outsourcing to Canada is that their culture is very similar to America. Cultural differences can have a big impact on the quality of your service. For instance, an agent with an accent that is difficult for your customers to understand will impede the quality of service you can provide. Canadians speak and act like Americans, so call center agents that you use will be able to speak English clearly and proficiently.
Multilingual
Sometimes you need to provide multilingual service, and when you do, Canada should be your first bet. Canada is a diverse and multicultural company, and this is reflected in many of their call centers, which provide service in a wide range of languages. Canada has a multilingual workforce to draw from and call centers can offer you a range of languages to choose from.
As the leading provider of outsourced call center solutions, 3C Contact Services teaches its partners the necessary customer service skills needed to engage and retain customers. Contact us today for more information.