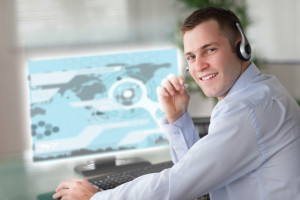 Using a customer call center in Toronto or your company's major city is one of the most effective ways to provide good customer service. A good call center, however, does more than just answer calls or resolve complaints; in fact, if that's all your call center is doing, there's a good chance you are not seeing many benefits reflected in your business. What few business owners realize is that inbound call center services should help optimize your workflow, increasing the efficiency of your company and encouraging either sales growth or reduction of costs. Improving your workflow is crucial for any successful business.
Here are some ways that an inbound call center in Toronto can help optimize your workflow.
Reduce Costs
One of the main ways that a call center can help optimize your workflow is by reducing your costs. In fact, call centers are both an affordable option and a provider of better service to your customers. This is because call centers already have the infrastructure and technology needed to provide cutting-edge customer service, so they can provide it to you at a fraction of what it would cost to implement your own in-house customer service team. By reducing costs in customer service, money can be diverted into other areas of your business.
Improving Customer Satisfaction
As experts in customer service, call centers are uniquely capable of improving customer satisfaction. Through experience, call centers should have proven processes in place that can more effectively resolve customer complaints. As well, call centers use cutting-edge industry technology that can help them quickly and efficiently provide service at a level that others cannot. Call centers collect data and statistics to improve their operations. They track their performance, allowing them to have keen insight into the most effective ways to achieve customer satisfaction. This data can also allow call centers to provide targeted service to certain customers, enabling you to tailor your service to the needs of specific types of customers.
Improving Efficiency
Customer service no longer just utilizes phone lines. There is a wide range of platforms and technology that call centers use to prioritize and handle customer issues. Most call centers are now technically what would be called contact centers, which handle customer service on both the phone and on other digital platforms, allowing them to effectively divert call volume and quickly resolve simple complaints. As well, call centers have processes in place to prioritize calls based on importance, which allows them to deal with high-priority customers or complaints quickly. In this way, call centers can quickly resolve the most problematic complaints or issues before they spiral out of control.
Combine Services
Call centers are no longer just limited to customer service. In fact, using a call center can allow your company to bundle a variety of services under the umbrella of "customer service." Many call centers now employ dedicated sales agents who can handle your company's sales needs. Cross-selling and upselling are both services provided that can lead to increased revenue for your company. By using a call center for sales services, you can both reduce costs and bring more revenue in.
As the leading provider of outsourced call center solutions, 3C Contact Services teaches its partners the necessary customer service skills needed to engage and retain customers. Call us today at 1-888-353-2335.