Customer service representatives are the main point of contact for your customers and that means they have to be friendly, approachable (yes, even on the phone), and informative. There are a lot of other important adjectives that could be used to describe the ideal customer service representative—compassionate, understanding, patient, a good listener, etc. All of these qualities can come across in a multitude of ways. Tone of voice is the most prevalent one. In fact, the importance of tone of voice in customer service can't be stressed enough. And in some ways, what you don't say can have just as much of an impact in improving customer engagement than what you do say.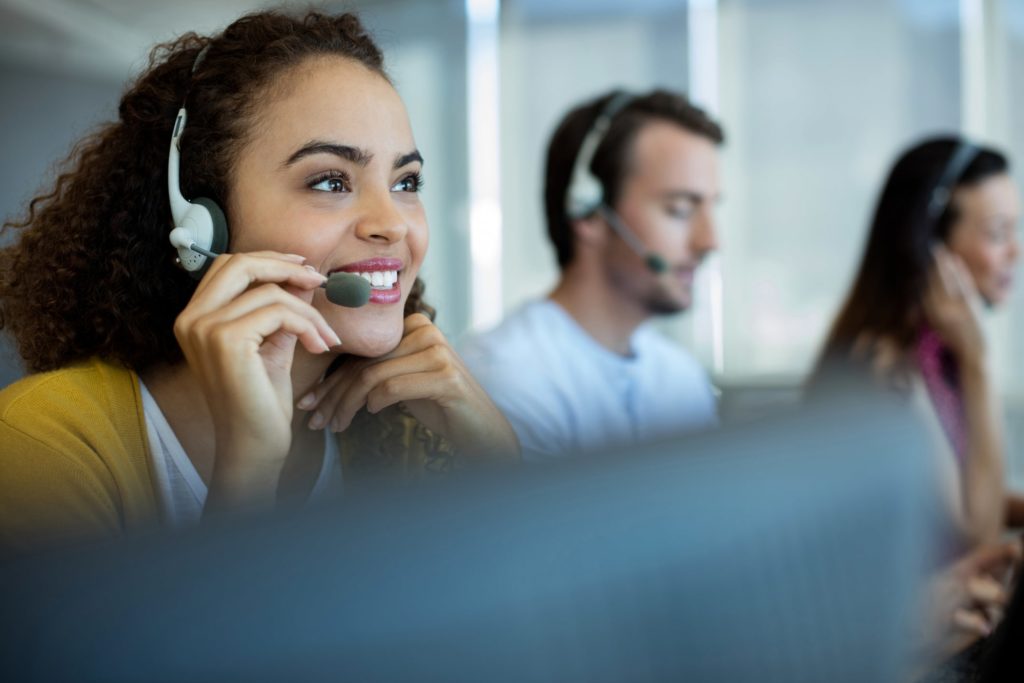 Why Tone of Voice Makes a Difference in Customer Interactions
Customer interactions are one of the biggest denominators in determining the quality and effectiveness of engagement. How a customer feels after speaking to one of your representatives vastly influences their decision to start or continue supporting your business. Customers like to feel as if they're special instead of just another number in a corporate machine. They want to know that when they call into a customer service hotline, they're going to be met with a compassionate, friendly, and articulate voice on the other end.
Here are a few reasons why tone of voice matters when handling customer service calls:
It Helps Customers Connect with Your Brand
When it comes to phone assistance, communication is paramount. And just like body language, tone of voice can express a lot more than words or actions alone. Customers can sense when you're tired, apathetic, sarcastic, or genuinely friendly and helpful. That's why it's important for customer service representatives to pay extra attention to the sound of their voice to make sure they're not unwittingly sending a negative message through their tone of voice. Keep in mind that even a neutral sounding or monotonous voice can often be misconstrued for boredom, so try to perk up your voice a little if the occasion calls for it.
A Friendly Tone Builds Trust
It's very reassuring to be greeted by a friendly voice when calling into a customer service line. It lets customers know that the person on the other end of the phone is ready and willing to answer their questions, address their concerns, or assist with their issue in a non-judgmental and helpful way. This is how you can build trust with your customers and ensure that they'll continue supporting your business. Sometimes, even if the interaction started on a negative tone, a friendly and compassionate customer service representative can turn it around.
It Encourages Customers to Support Your Business
Happy customers are usually the most likely to help spread the word about your brand by recommending it to people they know in person and online. So, providing positive customer experiences on the phone is very important to growing your business and helping you retain existing customers at the same time. Positive interactions uplift customers' moods and encourage them to make a purchase they might have been on the fence about for a long time.
Tone Sends a Certain Message
Vocal performance and tone are an essential component of providing excellent customer service. Representatives should work on sounding approachable and welcoming without coming off as phony. Try to avoid using what's known as your "phone voice" which is an overly polite rendition of your speaking voice as this can often be misinterpreted as condescension, sarcasm, phoniness, or dimwittedness. The tone of your voice you use should be determined on the circumstances of the call, which will be explained further below.
Tips to Get the Tone of Voice Just Right
Here are a few tips to help you improve your vocal performance on the phone.
Talk Naturally, But Be Conscious of How Your Voice Sounds
As mentioned, don't try too hard to sound overly polite as this can sometimes come off as sarcastic, phony, or condescending which is off-putting for a lot of customers. Speak using your natural voice as much as possible, but be conscious of how it sounds on the phone. Some people have naturally low or high-pitched registers that need to be reined in. Even speaking in too neutral of a tone can make you sound monotonous and disinterested in helping your customers. It's important to strike a good balance between professionalism and friendliness so that you exude capability and confidence without being patronizing.
Don't Get Defensive
No matter how angry or frustrated customers get, even if it's through no fault of your own, it's important to remain professional and never take it personally. Getting angry or frustrated won't help resolve the situation. It'll only make matters much worse. Maintaining a calm and reserved tone of voice throughout even the most negative customer interactions can actually help deescalate the situation and instinctively reassure customers that you have the competence and patience to help resolve their issue.
Let Your Personality Shine Through
When assisting customers over the phone, you want to make the experience feel as personalized as possible. So, take the time to understand what your customers want by listening carefully and then responding accordingly. Don't be afraid to add your own personal flair—while still maintaining a sense of professionalism—to the conversation as well. After all, it is a conversation and not just a sales pitch. This will make you more relatable to your customers and they'll also be more receptive to advice, service, recommendations, and solutions you have to offer.
Adapt Your Tone of Voice to the Situation
Play off your customers' emotions and tonality when they call in. If they call in due to a negative experience with your brand, then use your words and tone of voice to show them you're sympathetic and are able to help them resolve the problem. In circumstances like this, speaking in a low and understanding voice will reassure customers that you sympathize with their situation and are going to do everything in your power to rectify the situation. If a customer tells you that they're satisfied with their experience, then you should match that sentiment in your tone of voice. Always thank them for calling and ask if they need further assistance before ending the conversation.
The customer service representatives at 3C Contact Services have a wealth of experience handling customer inquiries, complaints, sales, and refunds over the phone, via e-mail, and through live chat services. Contact us today to learn how we can help you improve your customer interactions.