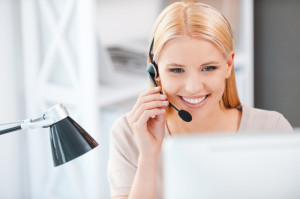 For the vast majority of businesses, good customer service is essential for success. While many entrepreneurs and business owners focus on marketing, new products, or promotional campaigns, research has shown that customer service is one of the biggest factors in a company's success. Poor customer service turns people away to competitors, while good service creates brand loyalty and relationships with customers, increasing customer retention and revenue.
So delivering excellent customer service is important, but what exactly is considered good service?
What is Good Customer Service?
What makes good customer service? When many business owners think of customer service, they think of passively answering calls and responding to complaints or questions. While this type of customer service is common, it cannot be considered good customer service. This type of service may not cost you customers, but it won't improve your business, revenue, or customer relationships in any way.
Good customer service goes beyond what your customers expect or receive from most other businesses. The best customer service doesn't wait for problems to occur or big issues to arise. Instead, good customer service is proactive, working towards solving problems before they occur, as well as actively fostering positive relationships with your clientele. By providing reliable, friendly, and personal service with your customers, you can help avoid problems from ever arising and keep customers with your company when issues do occur.
Tips for Delivering Good Customer Service
When trying to improve your business, don't ask how to deliver good customer service. Instead, ask yourself how to deliver amazing customer service that separates you from your competitors. Here are some of our tops tips for delivering exceptional customer service.
Respond Quickly: When a customer has a problem or issue they need resolved, a wait of even a day can seem like a lifetime. Often, even delays that short can be enough to send them to a competitor. Customers want fast and prompt service. That means you should provide 24/7 customer service. Phone calls should be immediately answered, and emails need to be responded to within the hour.
Use the Right Employees: Customer service takes skills. When dealing with angry, dissatisfied customers, your customer service employees need to be able to resolve their complaints, make them happy, and keep them as paying customers. This is no easy task. Hire only the most professional customer service representatives who have proven experience in the field. Training and regular evaluation is essential.
Listen: Good customer service usually happens through listening. In fact, most customer service representatives should be listening most of the time, hearing out what the customer's problem is exactly and determining what would be the best solution. Most customers with complaints don't just want a resolution—they want to know that their issue has been heard and that the company will take steps to prevent it from happening again.
Exceed Customers' Expectations: When you're resolving a customer's complaint or problem, go above and beyond. Your customers expect that their issue will be fixed. That should be the bare minimum service that you provide. Good customer service does more than just resolve a customer's problem—it exceeds their expectations and leaves them feeling happy and appreciated.
Respect Your Customers: Even when an issue is resolved, customers want to know that their business is appreciated. Your employees need to be friendly, courteous, and speak with customers on a personal level. Customer service that resolves problems in an impersonal, cold way will still be seen as poor.
Don't Ignore the Little Things: Sometimes, little things can have a big impact. Using the customer's name, asking them how their day has been, or proactively calling them after a purchase to find out if there are any issues can all be used to increase customer satisfaction.
9 Benefits of Good Customer Service
Providing good customer service doesn't just benefit your customers. It also has many advantages for your business.
There's a reason why major companies spend a lot of money, time, and resources into improving their customer service. The advantages of good customer service include higher revenue, increased sales, and even improved employee satisfaction.
By investing in your customer service, your business can receive many major, unexpected benefits beyond just happier customers. Here are some of the top benefits of good customer service.
1. Customer/Client Loyalty
It goes without saying that good customer service results in happier, more satisfied customers. What some people don't realize is that these satisfied customers are also much more likely to stick with your business, even if costs are higher or quality is spottier than with competitors. When you provide good customer service, you create bonds with your customers.
2. Word-of-Mouth Advertising
The most cost-effective form of advertising is when your customers do it for you. Word of mouth can be a great tool for growing businesses and marketing your services. If you provide good customer service, your customers will be more inclined to promote your business with family and friends and on social media.
3. Business Reputation Growth
When consumers choose where to do their business, they often make that decision based on business reputation. People want to spend their money on professional, reputable businesses. Your business reputation is directly related to how you treat and interact with your customers. The most successful companies in most industries all provide exceptional customer service, which is why it's seen as a marker of professionalism.
4. Product/Service Evaluation
While you may hope that your products and services would be evaluated based on their level of quality, the truth is that customer service will always play a role. If you look at reviews for products on Amazon, note how many mention customer service issues unrelated to the product, such as delivery or interactions with the supplier. Improve your customer service and your products and services will make a better impression.
5. Successful Business Strategies
By interacting with your customers and encouraging their feedback, you can improve your business operations and services. Good customer service gives you the opportunity to have more open communication with your customers, using their feedback and even complaints to help improve your business.
6. Reduced Risk of Business Failures
Many entrepreneurs focus on the benefits of good customer service to the customer. However, businesses themselves can receive major benefits. Perhaps the biggest is that by providing good customer service, you have a greatly reduced risk of business failure. Not only does good customer service allow you to get a better idea of your customers' wants and needs, but it also creates better relationships with your customer base. They are more likely to forgive your company when you make a misstep.
7. Reduced Employee Turnover
There are also benefits of good customer service to the employee. With good customer service, your frontline employees do not have to deal with angry, dissatisfied customers. This means that customer support teams and frontline staff are less stressed and less likely to quit. Businesses with good customer service have less employee turnover.
Another benefit of good customer service for employees is that your employees will be more satisfied and happy. When employees are more satisfied, they are also more productive. They can perform at a higher level and provide better customer service, which means the benefits continue to multiply for your customers and employees.
9. Increased Efficiency
With good customer service, you do not need to allocate more resources, time, and attention to placating customers or resolving major issues. This allows for increased efficiency and productivity. Your business does not have to waste time or resources on handling extraneous issues. This is one of the top major benefits of good customer service to external customers.
Our Excellent/Good Customer Service
If you want to know how to deliver exceptional customer service, then 3C Contact Services is the call center that can exceed your business needs. We provide expert customer service solutions through both dedicated and shared agents. We offer a variety of complimentary services, including customer "win-back" campaigns, welcome calls, upselling/cross-selling, and direct marketing.
Need excellent customer service to improve your business? As the leading provider of outsourced call center solutions, 3C Contact Services teaches its partners the necessary customer service skills needed to engage and retain customers and clients. Call us today at 1-888-353-2335.