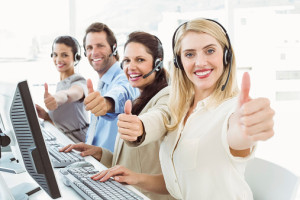 Dealing with customers on a daily basis can take a toll on even the most experienced call center representative. If your employees' morale starts to slip, this may reveal itself in the way they deal with customers, which in turn may just end up costing you business.
3C Contact Services, the leading provider of third-party contact center solutions, tells their partners that there are ways they can improve morale at their call centers, should they find that it is starting to slip. While it is inevitable that your employees are going to have to deal with difficult customers, there are steps that you can take to keep morale high;
How to Improve Morale in the Call Center
1.      Create a Purpose: Make your representatives' jobs meaningful. Tell them they are providing the customers with a much-needed service that is very important to them.
2.      Connect With Customers: Make sure that your staff knows who the customers are and just how the work they do benefits them. Whether it's providing financial advice or support for the product, let your team know that the work they are doing is needed and important.
3.      Use Proper Job Titles: If your employees have a formal-sounding job title, they are far more likely to take much more pride in their work.
4.      Provide The Right Tools: Your employees can't provide the best customer service if they don't have the best equipment and a comfortable work environment. If you provide your employees with reliable computers and phones, as well as a pleasant office environment, you'll see your morale improve considerably.
5.      Allow For Some Leeway: While you don't want your call center reps to completely abandon any guidelines you have in place for working with customers, you can also show trust by allowing them to handle customers as they see fit.
6.      Involve Your Staff in the Improvement Process: Give your staff problems to fix and think about how they can best organize themselves. Also look for ways to engage them in redesigning their workflow.
7.      Improve the System: You may just find that circumstances beyond your representatives' control are causing their morale and performance to slip. Listen to your employees' complaints about the system you have in place and then take steps to improve it.
8.      Offer Thanks & Praise: While a paycheque, benefits, and regular raises are great motivators, getting a thank you from the boss regularly helps greatly with inspiring your employees. 
9.      Fundraise for Charity: When thinking up ways to improve call center morale, you may focus on giving incentives to your employees. However, giving back to the community can help employees feel more fulfilled, engaged, and connected with their coworkers. Organizing a fundraising campaign or charity drive can be fun for employees and boost employee morale.
10.      Hold an "Info Sharing" Breakfast: In any work environment, most employees want to get to know their coworkers and learn and grow in their roles. Having an "info sharing" meeting or breakfast is a great way to get your team together, get to know each other better, and share knowledge or experiences with one another.
11.      Encourage Face-to-Face Interaction: In many offices, e-mail and phone are the primary methods of communication. In call centers, where this technology is integral for work, employees can end up relying on e-mail and phone to communicate with each other, avoiding face-to-face communication. This can be very isolating and increase workplace stress. By encouraging face-to-face communication, you can boost employee morale.
12.      Invest Time in Explaining the Benefits of Being Engaged in the Workplace: Some employees may not understand all of the benefits of being engaged in the workplace. There are a lot of workers who like to clock in, do their work, and then clock out. What many workers don't realize is that being engaged with their work and coworkers will lower their stress, improve their work productivity, and even create new opportunities for them.
13.      Encourage Call Center Agents to Organize Their Own Events: Work events can be a great way to have fun, get to know coworkers, and blow off some steam. One way to ensure employees are engaged is to encourage them to organize their own work events. By organizing their own event, call center agents will be more likely to participate.
14.      Run Fun Competitions for Your Call Center Agents: One easy way to inject a little fun into the workplace is to hold contests and competitions. These call center morale boosting activities are an easy and cost-effective way to create more excitement in the workplace. Small giveaways and special prizes can also make employees feel more appreciated.
15.      Have a Casual Dress Day: Strict dress codes can be an annoyance for some employees, who may feel it's yet another part of their job. While it may be necessary to have a dress code in your workplace to retain professionalism, having a casual dress day once per week can be a great way to give employees a break and allow them to relax a little bit.
16.      Organize Celebrations: There are no better morale boosters for call center employees than celebrations. Whether it's for a birthday, a baby announcement, or even a "going-away" party, a celebration can help employees have more fun, make them feel appreciated, and allow them to create better relationships with their coworkers.
17.      Give Your Call Center Agents Knowledge Instead of Strict Scripts: When call center agents are forced to adhere to strict scripts, they can become stressed out. Not only can employees feel more frustrated by these limitations, but they are more likely to return poor results when they aren't allowed to deviate from a script. When call centers give their employees the training and knowledge to provide better service, they can boost employee morale and receive better results.
18.      Give Out Surprise Treats Every Now and Then: One of the easiest ways to improve employee morale is to make sure that all of your employees feel appreciated. This doesn't mean having to do anything extravagant—simple gestures, such as giving out a special treat (e.g. a catered lunch, event tickets, etc.), can have a big impact on your employees' morale.
19.      Create a Break Room That Is Fun for Employees: If you want your employees to stay engaged and perform at their best, then it's important to allow them to take breaks so they don't burn out. A break room gives employees a place to get away from their work, talk with their coworkers, and lower their stress levels. Break rooms can feature fun and useful amenities too, like coffee machines, couches, pinball machines, or arcade games.
20.      Create Visible Career Paths for Call Center Agents: There are many ways to improve customer service that also improve employee morale. For instance, ensuring there are career paths and advancement opportunities for employees can encourage them to stay engaged, perform better, and work towards goals. Without advancement opportunities, your call center agents may become unsatisfied, disinterested, or less productive.
21.      Recognize Personal Milestones: When employees have goals and milestones to work towards, they are more likely to be engaged in their work and to perform better. Working with your call center agents to determine their career goals and milestones can give them something to work towards.
Implementing these ideas will go a long way towards improving morale at your call center. 3C Contact Services concludes that you must realize that your employees deal with a lot on a daily basis and showing that their hard work is appreciated will lead to better service for your customers and improved performance from your call center representatives.