Remote reception call centers are on the rise throughout North America and the reason for that is simple. They're efficient, reliable, and cost-effective especially for startups or small businesses that are still in the beginning stages of building up their brand and customer base. Businesses need full-time receptionists that are always ready and willing to handle high call volumes. Frequently dropped calls and long wait times don't bode well for your company as they can be frustrating for customers who have important questions, concerns, or even if they simply want to make a purchase over the phone. Working with a remote reception call center in Canada and the USA can help you better mitigate your call volume and provide exceptional customer service.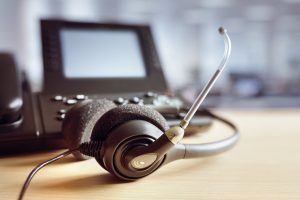 Remote Call Center Services in Canada and the USA
While your business might not be open 24/7 or on holidays, your customer service staff should always be on standby to answer phone calls, e-mails, and live chat inquiries. Considering the fast-paced world we currently live in, that's what your customers have come to expect and the last thing you want to do is disappoint them. Remote call center receptionists are available to take calls any time of the day or night, both domestically and internationally.
The benefits of employing remote call center services are plentiful. First, you can save yourself a great deal of time, money, and resources by not having to hire and train a full-time receptionist staff. Outsourcing to a remote call center means that you'll always have a full staff of highly qualified representatives engaging in customer relations on your company's behalf.
Not only are they well-versed in the policies and objectives of your company, but they also use designated greetings, phrases, and sales tactics that pertain to your industry and your company specifically. All operations must be approved by your company before they can be implemented. That way, you'll always remain in the loop and be kept up-to-date on how things are going.
Just because you're closed for the holidays or are on vacation, that doesn't mean your customers should cease to receive the exceptional service they deserve. Outsourcing to a remote call center service allows you to continue running operations even when you're not physically available to do so yourself.
On top of that, using a remote call center service allows you to constantly plan ahead for your personal and professional life and the best part is that you can pause and resume services as you see fit. If you only need to hire a remote call center on a temporary basis, then you can create a customized plan that works specifically within your timeframe and budget. There are absolutely no obligations or pressure to continue services beyond the scope of your company's needs.
Understandably, every business has specific times of the year when they need a little extra help keeping up with the demand for their products and services. Remote call center services in Toronto provide the perfect solution to help you meet your goals and keep your customers completely satisfied with your services.
Say goodbye to long wait times, frustrated customers, dropped calls, and negative online reviews because you now have a completely dedicated staff that's always there to offer the support you need.
Why You Should Outsource a Remote Reception Call Center
Knowledgeable and compassionate full-time receptionists are hard to come by. You have to take the time to interview, hire, and train them individually. Not only does that take a great deal of time and effort on your part, but the process can be long and cumbersome. In the time it takes you to find just one worthwhile and fully qualified full-time receptionist to handle all of the necessary administrative duties that come with the job, you can easily and conveniently outsource a whole team of them that are there to provide the support your business and customers need.
It's a cost-effective solution that will end up saving your company a great deal of money and resources in the long run. At 3C Contact Services, all of our remote receptionists are specially trained according to your company standards and policies without you even having to lift a finger. Skilled and experienced remote reception services are scalable, and they can provide you with the peace of mind you need to know that your customers are being well accommodated.
All you have to do is provide suitable greetings that you want the receptionists to use when answering phone calls and perhaps an in-depth training module so that they can educate themselves on the nuances of your industry. Even though remote reception call centers are dependable and dedicated enough to conduct their own client research, it's always helpful to have firsthand input from the companies that are being represented. That way, it's easier to ascertain that the correct information is being shared with customers and it also minimizes the risk of inconsistencies in services.
Remote call center receptionists are often fast learners and can pick up any information you provide efficiently enough to be completely off-script within a week. You can also provide updates on any exclusive upcoming offers and promotions your company might be planning.
It's better to inform the call centers about these offers before they go live so that receptionists have enough time to learn about them and accurately answer your customers' questions in a professional manner. Customers will be pleasantly surprised at how knowledgeable, helpful, and professional your receptionists are over the phone, via e-mail, and in live chats. Reduced wait times and quick service is also a bonus.
3C Contact Services provides specially tailored inbound and outbound solutions that are designed to maximize your understanding of your customer relationships, promote customer engagement, and improve overall profitability. Our dedicated remote receptionists undergo in-depth special training so that they can gain a thorough understanding of your business and key brand messages you want to share with your customers. To learn more about how we can help you grow your business, please contact us.
iStock.com/BrianAJackson