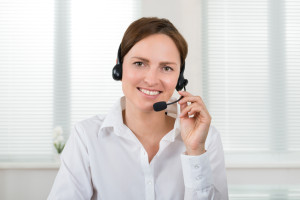 Average speed of answer (ASA) is one of the most important factors that call centers use to determine the quality of their service. Call centers have a variety of key performance indicators (KPIs) that they use to track the effectiveness and success of their service. Call centers need to be able to assess how effective, fast, and reliable their service is.
Using these metrics, call centers can then improve their service, increasing their success rate and effectiveness. Call centers that track ASA and other KPIs have the ability to provide superior service to clients.
Average Speed of Answer Definition
ASA is the average amount of time it takes for a call center to answer incoming calls. Or, in other words, ASA is the average amount of time that it takes for a call to be answered at a call center.
This includes the time each caller spends on the phone waiting, either while the phone rings or while in a queue (a.k.a. while being on hold). However, time that the caller spends interacting with an interactive voice response (IVR) system is not included as part of the ASA.
What Is Your Average Speed of Answer?
There is an average speed of answer formula that can be used to determine ASA.
Call Center ASA Formula
To calculate ASA, a call center divides the total amount of waiting time by the number of calls they received in a set period. For instance, if there was a total of 50 minutes of waiting time for 10 calls, then the ASA is five minutes (50/10 = 5).
Using this average speed of answer calculation, call centers can easily determine their ASA, allowing them to see whether they are answering calls quickly or if they are keeping customers waiting. Lower ASA scores are better, indicating that callers do not have to wait long, while higher ASAs are a sign of poor service.
Importance of Low Average Speed of Answer(ASA) in the Call Center
Having a low ASA is important when it comes to call center services.
Decreased Call Center Costs
When callers are stuck waiting in queues, costs increase for call centers. They need more agents to handle the backlog of callers and more time is spent on each call. A lower ASA means decreased costs, which translates into more affordable rates for the call center's clients.
Low Abandonment Rates
The longer a caller has to wait, the more likely they are to hang up or abandon the call. This can increase workload (as they may call back later) or result in lost business (as they may choose to switch to a competitor).
Reduced Handle Time
Callers stuck in waiting queues are more likely to be angry, frustrated, or emotional once their call is answered, and they may take this out on agents. This ends up increasing the time spent handling the call, as agents have to deal with frustrated customers.
Customer Satisfaction
Of course, no one likes to be stuck on the phone for long periods of time. By lowering ASA, you can directly increase customer satisfaction.
Increased Call Center Agent Satisfaction
When call center agents do not have a huge queue to work through, they are less likely to be stressed out. This, in turn, allows them to provide better service to customers and clients.
Increased Call Center Agent Efficiency
When call center agents have to waste time either apologizing to or placating angry callers routinely, the call center is expending resources and staff that could otherwise be spent on providing more effective service.
Good First-Call Resolution Rates
When callers do not have to wait, they are more likely to be satisfied. This means that their complaints, questions, and issues will be easier to resolve, which can result in higher first-call resolution rates.
Optimize your customer service. As the leading provider of outsourced call center solutions, 3C Contact Services teaches its partners the necessary customer service skills to engage and retain customers and clients. Call us today at 1-888-353-2335.