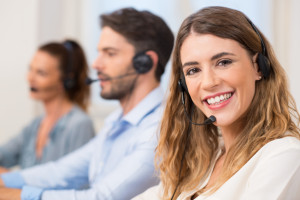 Outsourced call center solutions are often used within the transportation industry to provide a superior level of service and to improve their operations.
Few industries deal with the particular challenges faced by transportation companies. From trucking companies to freight carriers to airlines, any transportation service has a lot of factors to contend with, including tight schedules, coordinating deliveries or arrival times, dealing with fluctuating fuel expenses, and minimizing the impact of unforeseen incidents.
Despite all of these challenges, customer service is just as important as it is in any other industry. Transportation companies are often dealing directly with customers and clientele, and in an industry where people are often relying on timely, on-schedule service, having open communication and friendly services can be the key to resolving issues, keeping clients/customers satisfied, and improving your image.
How We Address the Customer Service Challenges Faced by Logistics and Supply Chain Companies
When it comes to using an outsourced call center for transportation companies, there are a number of specific challenges that need to be addressed. The right transportation call center services will take an individualized approach to the problems faced by supply chain management companies, freight carriers, and other businesses within the industry.
At 3C Contact Services, one of the key values that we believe supply chain companies need to provide their customers is flexible service. Often, clients want to be able to change or alter orders within a reasonable timeframe. With many services now catering to customers in this way, it's crucial that transportation companies rise to meet these expectations. To provide flexible service, it is essential to have open lines of communication across multiple channels, preferably with 24/7 service that allows customers to always get in touch.
The other value that customers expect is transparency. From the time they use your service, clients want to know accurate delivery and arrival times. Clients also want to receive timely updates from your company regarding the delivery process, as well as any changes in deliverables. Once again, open lines of communication are essential for this. Transportation companies need to be able to contact clients at any time on their preferred communication channel.
3C's Outsourced Call Center Solutions for Your Business
As an outsourced call center, 3C Contact Services can provide premier solutions for transportation companies. We offer 24/7 service using either dedicated or shared agents, allowing us to meet the needs of both small and large transportation services. With our service, your clients can always receive prompt service regarding their orders and delivery on their preferred method of communication. We use a multi-channel approach, utilizing phones, email, and live chat to provide the most professional customer service. We also provide multilingual support, sales, and other services that can help grow your transportation business.
Transportation companies need effective customer service. As the leading provider of outsourced call center solutions, 3C Contact Services teaches its partners the necessary customer service skills needed to engage and retain customers and clients. Call us today at 1-888-353-2335.