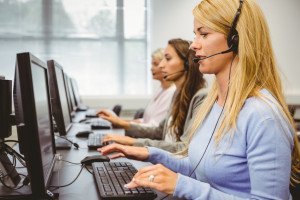 In the media and entertainment industry, outsourced call center solutions have become more effective than ever before. With the rise of Internet use and more digital streams, the entertainment industry has undergone a seismic shift and faces new challenges. Customer service is more important than ever, as is brand loyalty, customer acquisition, and multi-channel service.
Contact center solutions can be used by media companies to give them an edge on their competitors and help them increase their customer satisfaction, revenue, and profits.

Need for Outsourced Call Center Services for Media and Entertainment Businesses
There are many types of businesses within the media and entertainment industry, including in the sectors of film, sports, digital media, advertising, hospitality, gaming, publishing, cable, music, live performances, and radio.
All of these businesses are now facing new challenges and changes. The Internet and digital channels have transformed the industry. Consumers, particularly Millennials, now expect to access much of their media and entertainment through their phones or laptops, and also prefer to discover, contact, and interact with companies through these channels.
With the Internet, consumers also have more exposure to different entertainment and media options, making it a necessity for entertainment companies to provide superior service and more actively acquire, engage, and deal with customers.
How We Address the Customer Service Challenges Faced by the Media and Entertainment Industry
3C Contact Services is an outsourced call center that can improve your media or entertainment business. We serve many clients in different sectors of the entertainment industry, and we use proven techniques to help grow your business and improve your customer's satisfaction.
Now more than ever, consumers want companies to meet them on their own terms. That means providing prompt service when they want, on the platform of their choosing. 3C Contact Services offers multi-channel support using phones, e-mail, and live chats, allowing your customers to interact on their own terms. We also provide 24/7 service.
Another challenge is making your business stand out and competing with all of the other entertainment options that are available. Our outsourced call center services also include outbound services, which take an active role in generating leads, acquiring new customers, and determining customer issues. The majority of consumers will not contact a company before they switch services, particularly in the media industry, where there are competing businesses. Outbound services are essential in this industry.
Call center outsourcing can also allow your media or entertainment company to increase your customer retention and satisfaction. Research has shown that the most cost-effective way to grow your company is by increasing customer retention. Using trained, professional agents, we can provide individualized customer service that improves brand loyalty and increases your company's reputation.
3C's Outsourced Call Center Solutions for Your Media and Entertainment Business
At 3C Contact Services, we provide advanced customer service solutions using trained, professional agents. We offer both shared and dedicated agents to meet the needs of entertainment companies both large and small. We provide a range of services that can increase customer retention, improve brand loyalty, boost customer satisfaction, generate leads, and directly grow revenue and profit.
Media and entertainment companies can benefit from call center services. As the leading provider of outsourced call center solutions, 3C Contact Services teaches its partners the necessary customer service skills needed to engage and retain customers and clients. Call us today at 1-888-353-2335.