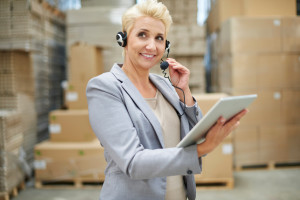 For manufacturers, outsourced call center solutions can be an effective tool for increasing business success. The manufacturing industry faces many unique challenges that other industries and businesses do not have. Effective supply chain management and order fulfillment are crucial for success in an increasingly complicated global market.
By using contact center solutions, manufacturers can improve their business success, provide better service to their clients/customers, and gain an edge on competitors.
Need for Outsourced Call Center Services for Manufacturers
Global supply chain management has become more complex for manufacturers, requiring effective communication with suppliers, vendors, clients, and partners.
As a manufacturer, it's important to be able to communicate effectively with partners and clients, ensuring fulfillment of orders according to delivery schedules and specialized needs. Manufacturers also need to be able to communicate with suppliers, vendors, and customers when unforeseen issues or circumstances arise.
In today's global market, manufacturers face more competition than ever before. Clients and customers have higher demands of manufacturers, and companies within the manufacturing industry have to provide superior service than in the past to remain competitive in this environment.
How we Address the Customer Service Challenges Faced by Manufacturers
3C Contact Services offers a variety of outsourced call center services to meet the needs of the manufacturing industry.
Effective and efficient communication needs to be open for manufacturers. This is why multi-channel support and around-the-clock service is important, allowing clients, partners and customers to contact your manufacturing company whenever necessary across a variety of channels and mediums. When issues arise that will impact orders, deliveries, or transactions, lines of communication need to be open.
3C Contact Services offers multi-channel support across a variety of streams, including phone, email, live chat, and other digital channels. We also offer 24/7 live support, allowing your clients and customers to speak with a live representative at any time of day.
In the global marketplace, customer service is more important than ever for manufacturing. Our trained, live agents can provide professional, courteous and effective service, offering multilingual support in a variety of languages and for a variety of levels of service.
3C's Outsourced Call Center Solutions for Your Manufacturing Business
3C is an outsourced call center that can offer solutions to address the challenges faced in the manufacturing industry. With our call center outsourcing, shared and dedicated agents can provide effective multi-channel support for any sized business or company.
With a call center for manufacturers, dedicated agents can provide service tailored and specified to the manufacturing industry, allowing for increased customer service, more efficient communication with key customers and partners, and better service.
Optimize your customer service. As the leading provider of outsourced call center solutions, 3C Contact Services teaches its partners the necessary customer service skills needed to engage and retain customers and clients. Call us today at 1-888-353-2335.