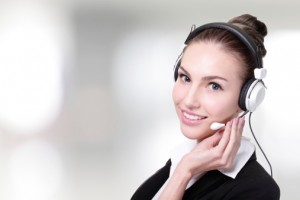 Customer service is frequently overlooked by new businesses, despite it being one of the most important ways to gain customers and increase customer retention. No matter what your product or field, poor customer service will cost your company in the long run.
Here are a 9 customer service mistakes that you should avoid.
Arguing and Acting Unprofessional
Unprofessional behaviour is one of the easiest ways to lose customers. A rude, insulting or dismissive customer service rep will send your clientele running to your competitors. However, unprofessionalism goes beyond rudeness. Arguing, debating or resisting a customer will also turn people away. While the customer isn't always right, you should always try to find an amiable solution that will keep both of you happy. If you don't, not only will you lose that customer, but they may publish bad reviews about your company, convincing others to stay away.
Relying Solely on Technology
When your customers have a problem, they want to speak to someone. Both the Internet and new technologies have now opened up a wide range of possibilities for customer service and support, including online tutorials and FAQs, community forums, and automated voice response systems. While all of these can be useful, people still prefer to speak with an actual person when they have an issue. Other methods of customer service can be frustrating and unhelpful when they fail to solve a customer's dilemmas. They can also be impersonal and make people feel like they are not being heard. Keep your customer service personal, using either in-person or over-the-phone channels.
Being Inaccessible
One of the most frustrating things for customers is when they cannot get in touch with your company for help. Having a customer service line is important, but if it is only open for a select number of hours each day, you will quickly infuriate customers who have pressing issues or conflicting time schedules. If possible, always aim for 24/7 customer service and be available through multiple channels, including phone, e-mail and social media. Allow them to contact you the way they prefer.
Not Training Your Employees
A lot of people see customer service as something anyone can do, which is an easy way to ensure your customer service is poor. Customer service skills are very important for these roles, and you cannot expect an employee to perform without training or prior experience. Providing proper training for employees is fundamental. Contracting out customer service to a professional company is another option. Whichever method you choose, you should place the same importance on customer service roles as any other in your company.
Unable to Keep Promises
Can you imagine telling a customer that an action will be made or that something is going happen to rectify a situation, and then nothing happens? This is an incredible mistake that customer service agents need to avoid at all costs. You need to know what's possible and what's not possible. It's better to present the customer with realistic proposals rather than suggesting solutions you know is either unlikely or near impossible.
Canned Response
Customers today expect far more from their inquiries than a canned response. A canned response is essentially a standard FAQ format with answers to common questions that businesses use when responding to customer complaints. If you hope to keep your customers happy, don't do this. Customers want personal attention and responses specific to their inquiries.
Not Enough Concern for Customer's Feelings
A customer service agent must be able to empathize with customers regardless of the nature of the problem. This means agents must take the time to first listen to the customer. Taking it one step further, typing detailed notes ensures you get to the core of the issue and that other staff will be well-informed.
Ignoring Customer Needs
If you listen closely enough, a customer will always tell you exactly what they need. Sometimes, though, it takes a little prodding and good agents will be able to do this. You must find a way to determine precisely what customers need and then offer solutions. Ignoring what they are telling you and instead drawing your own conclusions is a surefire way to fracture the relationship.
Unhappy Employees Don't Make Happy Customers
If for whatever reason you are unhappy with you job or are just having a bad day, you need to find the strength and the professionalism not to take it out on the customers. So often, unhappy employees end up being short with customers or display less patience. These are both errors that will cost you a customer's trust.
As the leading provider of outsourced call center solutions, 3C Contact Services teaches its partners the necessary customer service skills needed to engage and retain customers. Contact us today for more information.