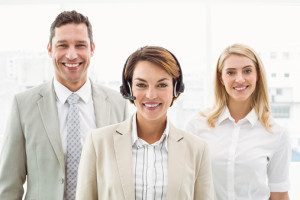 Managers who are looking to fill call center agent positions need to keep one important thing in mind: customer service is imperative. In fact, the way a call center agent handles a call can be the deciding factor over whether or not a customer will continue to do business with an organization.
Whether the client calls in over a troubleshooting issue, places an order or pays a bill—your customers want to know they're going to receive friendly, courteous and efficient service. That's why a call center agent must have the appropriate skills to resolve issues during a client's first call or contact attempt.
How to Hire The Best Call Center Agents?
According to a 2013 study conducted by the market research company Dimensional Research, 72% of customers were dissatisfied with the call center service they received due to being passed around to multiple representatives.
To avoid unnecessary obstacles in the future, here are a few tips your company should follow when filling call center agent roles:
Ask the Right Questions
During the interview process, ask the candidate to provide specific examples of how they handled challenging situations in their lives. Look for answers that demonstrate their abilities, skills and motivation—which would effectively show how well they'd respond to irate customers.
Use Role-Playing Exercises
Let's say the potential employee has all of the right answers—let's try a little role-playing. After all, it's the best way to assess a candidate's abilities as well as have them demonstrate their customer service skills. A hiring manager can, for example, pretend to be an irate customer who needs a matter fixed immediately. Observe how the candidate handles the situation: How quickly can they narrow down the issue? Do they fully go through a list of questions before passing the client on to a supervisor? Are they confident with their responses, even while under pressure? Do they get angry easily? Are they sweating?
In addition to revealing the candidate's ability to resolve an issue on the first call, a role-playing exercise can quickly reveal their personality traits, their communication skills as well as any skills they may have related to the position. After carefully questioning the candidate and going through a simple role-playing exercise, you should have a pretty good idea as to whether or not the candidate will succeed in the position.
Use The Information to Your Advantage
The information you gather while interviewing candidates for call center agent positions can be used for assessing future candidates. For example, how well do other candidates meet first-call resolution goals? Future assessments can be compared to standardized performances to further discern a candidate's call resolution abilities.
Hire People That Fit Your Contact Center Agent Profile
You need to know what kind of agent that has made your company successful before hiring another agent who can bring the same level of success. Once you identify the skills of your best agents, look for those same characteristics in your new hires.
Previous Call Center Experience
Every company wants to give newbies a chance, but when presented with a candidate that has prior call center experience versus someone who has little to no experience, it's always best to hire the veteran. An experienced call center agent does more than complete their job, they share their experience with the team and make other agents better.
Look for People with Naturally Effective Communication Skills
Communication is the name of the game when it comes to being an agent. They have to know how to speak to clients on a continual basis. Not only does this take good communication skills, but agents must be patient and understand how to manage calls to meet and exceed customer expectations.
Hire Good Listeners
A big part of communicating effectively is also knowing how to listen to the clients so agents can effectively solve their issues and direct their calls. If agents are too presumptuous, they do not get to the core of the customer's concerns and that only leads to more frustration on both sides.
Keep an Open Mind When Hiring
As much as you want to hire agents who fit your criteria, it's unlikely you'll find a candidate that meets all of the requirements on your checklist. Some of your best agents will not fit neatly into your list of expectations and that's fine. These are wild cards and every company needs these type of dynamic workers who are a bit outside the norm. Keep an eye out for these gems. After all, diversity can be a huge benefit when it comes to finding the right agents and having employees that can think outside of the box can help improve the efficiency of your call center.
As the leading provider of outsourced call center solutions, 3C Contact Services works closely with partners to help them identify the right candidates for call center agent positions. Contact us for more information on how we can find a customized solution that fits your requirements and budget.